2 Sisters' Maggie's delight in opening doors for Ukrainian refugee Liudmyla
23 May 2022
2 Sisters Food Group Divisional Technical Services Continuous Improvement Manager Maggie Moreira sponsoring refugee under Government's Homes For Ukraine scheme
55-year-old refugee Liudmyla Vinnytska, who travelled solo to the UK with her family back home, is now living with Scunthorpe-based Maggie
Her new friend is now also a work colleague as Liudmyla has now been shown the ropes and is working at 2 Sisters' Scunthorpe chicken processing facility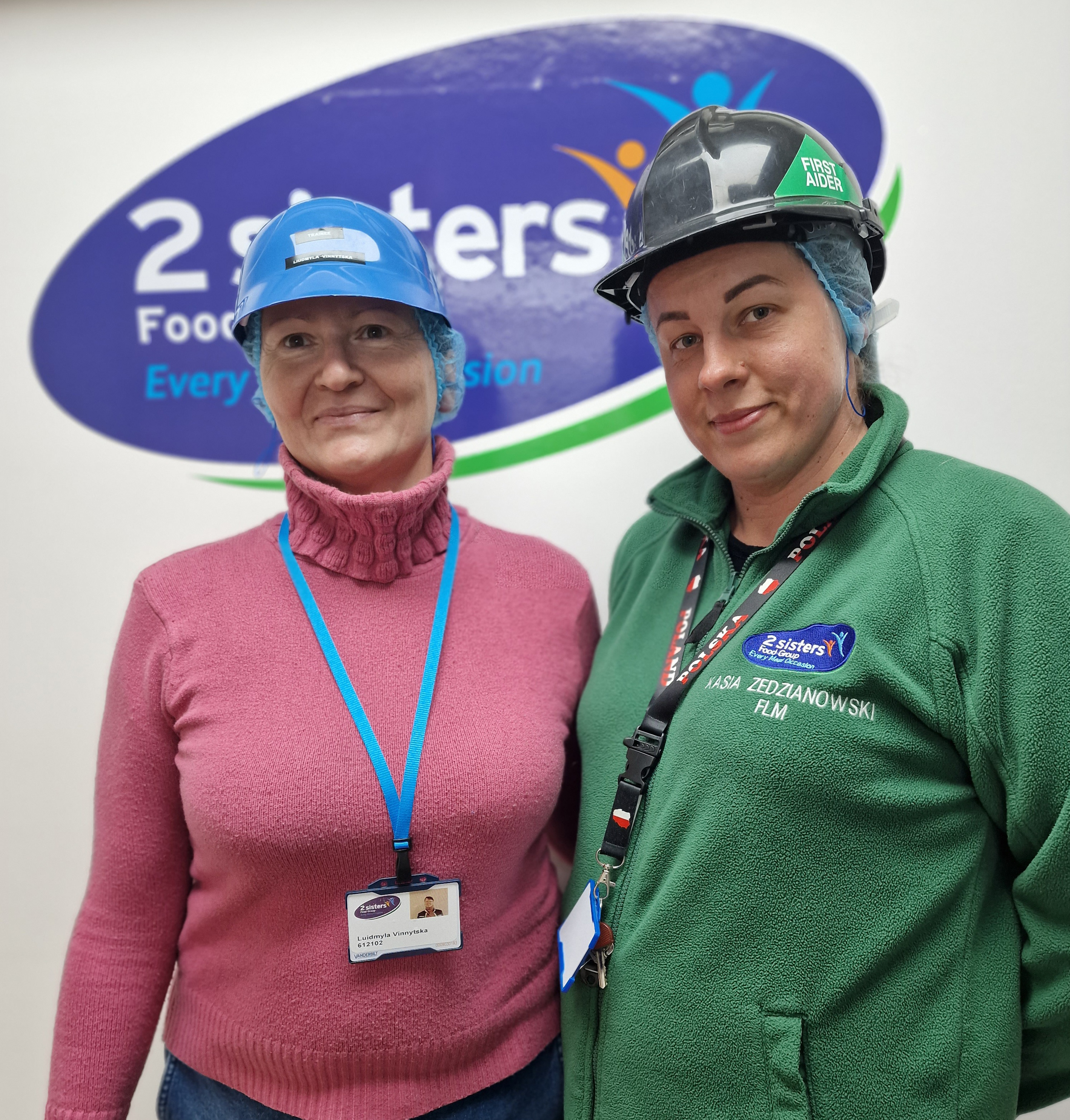 Liudmyla and Kasia Zedzianowski
A caring manager from food manufacturing giant 2 Sisters Food Group has taken a Ukrainian war refugee into her home, and also opened doors for her at her workplace.
Maggie Moreira, a Divisional Technical Services Continuous Improvement Manager, was eager to help refugees under the Government's Homes For Ukraine scheme. Once the application process was complete, Maggie welcomed Liudmyla Vinnytska into her home in April.
Maggie said: "I'm so delighted Liudmyla is here. When the conflict broke out I just knew I had to do anything I could to help. So to get the paperwork sorted and welcome her into my home is the least I could do."
Maggie explained that Liudmyla, who speaks no English, was very eager to get into work and did not want to rely on the goodwill of others. So after just two weeks Maggie, who currently works in a divisional role for 2 Sisters across the UK, got in touch with the Scunthorpe site (where she used to work) to see if the factory could help.
Maggie said: "From there we haven't looked back. I would like to express my deep gratitude for the amazing support and warm welcome that Liudmyla received from all at team Scunthorpe – especially the recruitment, training and security teams and the rest of the wonderful people at site, who from the very beginning have all been remarkably supportive in providing Liuda with a truly soft landing."
Liudmyla was given a bespoke fast-track induction at the site, and after two days of training, she was taken into the factory for her shifts, and was buddied up with a Polish Team Leader who could communicate with her.
Maggie said: "Liuda's feedback on her first days at 2 Sisters is extremely positive both on people, working conditions and health & safety standards, as well as the induction process and systems in place, and she feels overwhelmed with the support and kindness that she is met with every step of the way. I think it really highlights what we stand for as a business and the impact we can have on individuals and communities. She is now looking forward to being part of the business and to contribute with her skills and dedication, while learning English to gain a deeper understanding of the business' nature, purpose and challenges."
Scunthorpe site Head of Operations Dan Whillock added: "It is a pleasure to welcome Liudmyla into the factory. Everyone wanted everything to go as smoothly as possible for her, and we certainly had to work hard to overcome the language barriers in a very short space of time. She's a great asset to the team."
See all our news