Holland's Pies donates almost 20,000 pies across the North West
10 July 2020
Lancashire pie baker, Holland's Pies has donated almost 20,000 tasty pies to fantastic causes across the North West.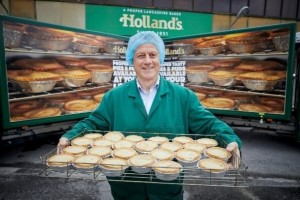 As tougher measures were put in place back in March, Holland's Pies committed to donating pies to those most in need and noble causes across Lancashire. These included those self-isolating, those using food banks, and ahead of VE Day, veterans. Most of the recipients were nominated by Holland's Pies fans on the baker's Facebook and Twitter pages.
Notable charities that received pies include Lancashire Fire Fighters, Hyndburn Food Bank, Gateway Burnley, plus many more worthy causes.
Leanne Holcroft, Brand Manager at Holland's Pies, said: "During a difficult period for all, we're pleased to have brought pastry joy to folk all over the North West by donating almost 20,000 pies which, stacked on top of one another, would equal the total height of five Blackpool Towers!
"Whilst we know the lockdown measures are starting to ease, we still remain committed to helping those who need it, and whilst it's a small gesture we hope we can continue to make a positive difference."
Holland's Pies will continue where possible working with various worthy causes such as food banks moving forward.
Kate Cunliffe, Homelessness Service Manager – Gateway, said: "The donation from Holland's Pies was very much appreciated. Support from local businesses and the wider community is invaluable to our service, even more so at this time. It makes it even better that we can share local produce with the people who we help and work with every day."
See all our news