Having their cake and eating it – 50 years on!
25 August 2020
Northumberland couple Kathleen and Russell Davis recently celebrated their Golden Wedding Anniversary in July.
When they got married in 1970, they bought their first ever electric oven for their new home in Derby. A food hamper came with the oven and inside the hamper was an Elkes Dundee Cake. Elkes was the previous company name for Fox's Biscuits in Uttoxeter.
The couple didn't eat the Dundee cake, as they thought it was too special to use so kept the cake in its original tin in the back of their kitchen cupboard.
Over the years as they have moved house, the cake has always moved with them.
Kathleen and Russell are now retired and have settled back in Northumberland. They recently contacted Fox's to tell them they still had the cake in its original tin and asked whether it would be edible as they intended on opening it on their anniversary. Unfortunately, the team couldn't advise on the state of the cake.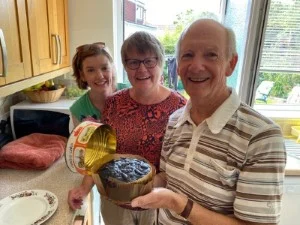 50 YEAR OLD CAKE: from left their daughter Anna Simpson, Kathleen and Russell
Kathleen said: "We had a lovely weekend celebrating our golden wedding anniversary. The following weekend our daughter and her family came to visit and we opened up the Dundee cake tin, we had great fun trying to decide what it would look like.
"The grandchildren could not believe it was 50 years old. The cake itself was very dark but it did still smell like cake. We cut into it and all the adults had a very small piece, it was quite dry and had a slightly burnt taste. I had baked a chocolate cake for the day as well so no one went without."
Kevin Hand, Fox's Uttoxeter GM, said: "What a lovely story, we're pleased to hear that after all this time Kathleen and Russell finally had their cake and ate it!"
See all our news