Forty fabulous years for marvellous Mel
27 February 2020
Loyal 2 Sisters worker Mel Radford is celebrating forty years' service at our ready meals factory in Rogerstone.
Mel, a roast oven QA, has worked at RF Brookes in Rogerstone since it opened aged just 19, and has now racked up an amazing 40 years' service.
Starting out as a fryer op on the factory floor, Mel became a machine minder and then moved into Quality Assurance.
Back in the days when they were down in the old factory site it was all manual work, all the mixes for the fryers were in trays and there was no lifting equipment for the large bins holding ingredients.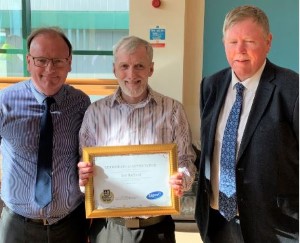 From left: Steve Bowling, Site Director, Mel and John James, Regional Secretary BFAWU
The team at Rogerstone held a presentation for Mel.
Mel said: "I'm very proud to have worked at Rogerstone since the beginning, I have so many fond memories of my time here and I have loved seeing the business grow over the years.
"Thank you to everyone who organised my presentation and invited my family and friends, I was really overwhelmed."
Nathan Rees, Factory Shift manager, said: "It is such an amazing milestone for Mel, he's a great member of the team."
See all our news