2 Sisters helping heroes in coronavirus lockdown
27 April 2020
Britain's biggest food manufacturer backing hundreds of local initiatives
Thousands of Fox's Biscuits sent to NHS; Poultry, ready meals & pies to needy
Colleagues decide to donate their own company 'thank you' items to charity
2 Sister Food Group has made sure that as well as helping to feed the nation, it has also delivered much needed cheer to thousands of NHS staff and charitable organisations during the coronavirus pandemic.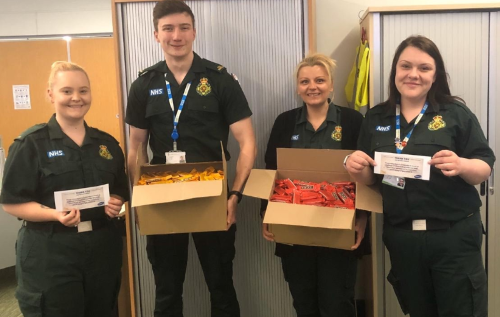 West Midlands Ambulance Service
Businesses from across its wider Group have ensured that NHS Trusts up and down the country, as well as food banks and other charitable groups, have been supplied with food during the national crisis.
Hundreds of colleagues – in receipt of 'thank you' packages from the business – have also selflessly decided to donate their goods to local deserving causes.
Some of the support includes:
At our UK Poultry division
We have provided poultry products for celebrity chef Tom Kerridge to support his 'Meals from Marlow' initiative. Our teams have been supplying poultry to the chefs at Tom's catering company who are creating free meals for all the frontline workers at local NHS Hospitals in Buckinghamshire
Derby site - Colleagues decided to donate their own complementary boxes of Fox's Biscuits from management to the Royal Derby Hospital – 200 boxes have been received by the hospital's charity hub
Llangefni poultry factory – Technical Manager Nici Roberts has been sewing bags for NHS staff and key workers delivering food to homes for vulnerable children. The bags will enable the workers to put their uniforms straight into the washing machine so they don't need to handle them.
NHS worker at High Wycombe Hospital
At our Meal Solutions division
Rogerstone Ready Meals factory – have donated thousands of aprons and overalls to four NHS trusts in the South Wales region
Pennine Foods, Sheffield – have donated ready meals to Jessops Hospital in the city
Cavaghan and Gray Ready Meals factory, Carlisle – decided to forego 'thank you' vouchers from the management team and instead spent the vouchers in the factory shop - donating the items they bought to the local food banks in the city.
At Fox's Biscuits
Have donated hundreds of thousands of biscuits to hospitals, care homes, charities and food banks across the UK, including: The West Midlands Ambulance Service; Newlands Care home in Heckmondwike, West Yorkshire and Valorum Care Group homes across Yorkshire. The Old Vicarage Home and the Croft House Care home, both in Freckleton, Lancashire. Pinderfields Hospital in Wakefield; Stoke University Hospital and Royal Derby Hospital.
At our Hollands Pies factory
Holland's pies are helping to deliver food parcels across North East Manchester providing thirty food parcels every week. Holland's have also introduced a delivery service of pies in the North West.
At our Gunstones Bakery in Dronfield
Have donated hundreds of Hot Cross Buns and rolls each week to Re:store a weekly community Food Service for those less fortunate in the Dronfield area
From left Sally Holt, Commercial Executive at Gunstones Bakery and
Janet Moreton of Oaks Community Church ?
Ronald Kers, 2 Sisters Food Group CEO, said: "We're proud to play a big role in helping to feed the nation during this time of crisis. But as a large food business making different products at many locations across the UK, we are also delighted to be able to put a smile on people's faces during such difficult times.
"It is simply amazing that our local teams have decided to give something back to the communities in which they work.
"Whether it's Fox's Biscuits for many NHS Trusts or care homes, or a local food bank or other charity organisations, it's really humbling to see our colleagues rallying in such challenging times to say a simple 'thank you' to those that need it most."
See all our news